Your website needs to celebrate your brand while being clean and easy to navigate, pushing visitors to take action. Our web developers have designed some of the most iconic and effective websites copied by candidates and organizations nationwide.
We offer different levels of website development and hosting that can fit your needs now and in the future.
Includes:
Scrolling Page: When people come to your website, they'll see your brand and photos, key information and messaging, and a call-to-action that captures new subscribers or followers.
Volunteer & Contributions Forms: The whole point of a landing page is to capture traffic. We'll make it easy to convert visitors into volunteers and donors through clean and simple forms.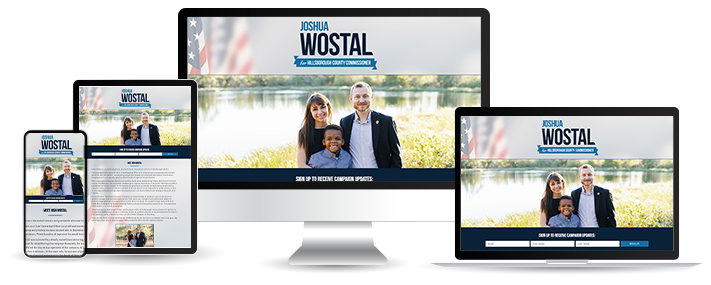 Interactive Website: $2,500
Includes:
Home Page: The most important page on your website, your home page will celebrate your brand and identity, capture visitors' attention, and cleanly push them towards clear calls-to-action.
Your Story: Tell your story and give your background and experience with a compelling narrative, keeping people's interest and showing your passion for service.
Messaging: Your website will cleanly and effectively convey your theme and messaging, not only telling visitors where you stand but helping them understand why you care about making their lives better.
Volunteer & Contribution Forms: In addition to providing your information, a major goal of your website is to drive people to take action. Using clean and simple forms, we'll concert visitors into volunteers and donors.
Up to 5 Additional Interior Pages: If you have additional content you want to include, such as media hits, a blog, or social media channels, up to 5 additional interior pages can be included.
Annual Hosting & Domain Names
Fast & Secure Hosting: $150/Year

SSL Certificate: $10/Year

Personalized Domain(s):
$15/Year each

Google Workspace: $6/Month